Screw Drive Openers
Screw drive openers are one option among garage door trolley systems. Instead of having a chain or belt drive, one can choose a threaded rod which guides and moves the door. Screw drive operators have fewer parts than the other two choices enabling the full usage of power for the movement of the door. Although screw drives are smaller in size, they do have great power and are ideal for heavy and wide garage doors.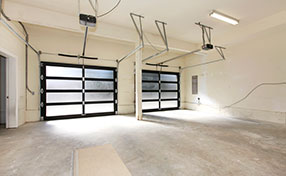 Our Expert Team Provides Garage Door Maintenance, Repair and Replacement
Screw drives are free of gears, pulleys or chains and this indicates easier maintenance. It also means that the power coming from the motor is not distributed to various parts but goes straight to the door. For this reason, this type of drive openers is ideal for heavy doors and can open the door rather smoothly. They work with a threaded rod attached to the door and the lifting mechanism moves along this rod in order to open or close down the door. The threaded rod actually turns and guides the mechanism at the right direction so that the door can be lifted and lowered the right way.
Screw drive openers are not ideal for all garage doors but an excellent choice for heavy ones. Since they do not have many components, they don't cause problems often and their maintenance is easy. Since the main operation is done with the help of the threaded rod, it will just need some lubrication when it is dry. This system is not entirely noiseless but not as noisy as chain drives.